Innovation
Expert Drywall has been leveraging best practices, industry-standard tools, and the latest technologies for more than 65 years. We introduced the Pacific Northwest to the concept of metal-stud framing in the early 1950s. Clients report that our ability to innovate and problem-solve are among our strongest competitive advantages.
Using the latest in innovation, Expert continues to evolve as an industry leader by:
Integrated Project Delivery
IPD is a fundamental leap forward in the construction process. With IPD, subcontractors on each project collaborate with the contractor and the client throughout the life of the project. Expert has invested in the people, resources, technology, and software to fully participate as an IPD subcontractor.
Building Information Modeling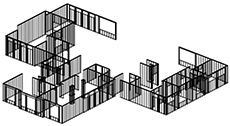 Expert integrates its construction plans into a BIM software program along with other subcontractors on the project. Using virtual 3-D software, plans are overlaid and merged into a comprehensive 3-D model. Before stepping foot onsite, conflicts are easily identified and collaboratively resolved before manpower is mobilized. Projects are completed with more accuracy, construction moves more efficiently, and surprises are minimized.
Lean Construction Principles
Lean Construction Principles are being standardized by industry leaders, including Expert. By harnessing technology, Expert can maximize material efficiencies and labor installations and minimize waste.
Through preconstruction planning, Expert can precut materials, prefabricate assemblies, coordinate installations with other trades, and share information—leading to a safer jobsite, reduced waste streams, and increased productivity.